What are trainers, educators, athletes and seniors saying about APT?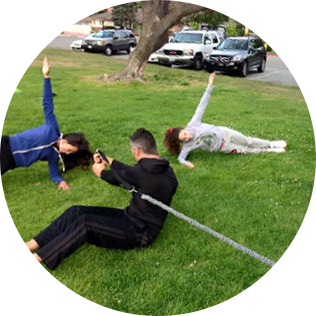 "Anchor point training can be very effective. Ive been using this equipment for over a year and I still keep coming up with new creative and challenging workouts. My clients and I love anchor point training. I use it everyday."
Tomas Samaniego
Fit 2 Ripped San Jose, Ca
"Chris Severs has revolutionized fitness with the APT. The versatility and adaptation that you can create with his easy to use equipment makes every workout fun, challenging, and effective. I teach sports performance and fitness bootcamps and no matter the fitness level EVERYONE gets a great workout."
Anthony Parisi
FBBC Thousand Oaks, CA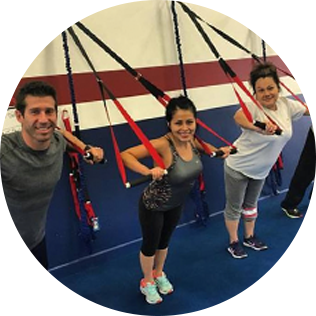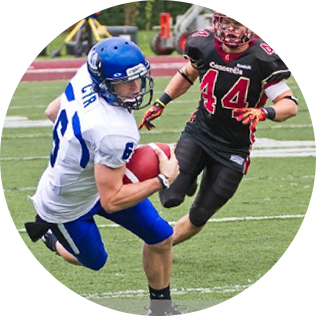 "Through my years of college football and Olympic Lifting, I've learned that the best way to train for a sport is to recreate the motions and bio mechanical patterns that occur during competitions. Anchor Point Training allows me to recreate any pattern I want with resistance in order to prepare for competitions and prevent injuries." Thank You Chris!
Marc Andre Lewis
Trainer/athlete , Montreal, Qc.
See what more users of

Anchor Point Training

are saying...
""It was so great to have you in KC ! Our trainers and clients are LOVING our new Anchor Point equipment...what a nice addition to the studio!"
Client Comments: They're just shocked at what a great workout they can get using "bands". I love how much easier they are to use in general and everyone appreciates the ease of doing a standing chest press with any of the bands vs. a traditional cable system. Great stuff!"
Jill Stoppel-Davis
Excell Fitness, Kansas City, MO
"Since July 2012 I have probably trained over 800 morning sessions with Chris using only APT equipment. I felt this approach was right for me from the first session. When we started I had knee and shoulder mobility issues. I have completely overcome them and now have the strength, endurance and agility of my youth. I'v experienced a consistent improvement in my abilities over 3 years, lost fat, gained muscle, improved memory, clarity and energy, I'm traveling more and I'v resumed my career in Real Estate"
Margaret Lloyd
APT client Long Beach, CA
"Chris , these bands are great, my clients are loving them !""
Saul Carter
FBBC Manteca, Orange, Turklock, CA
"It was so great to have you here with us at Fit Body Boot Camp Anchorage. Your great coaching style and wonderful sense of humor made learning something totally new, a lot easier. We are excited to bring Anchor Point Training to our members. Thanks so much for your inspiring and educational workshop! Looking forward to applying some new exercises with our camps! Come back anytime!"
Bonnie Brantley Murphy
Be Well and Fit, FBBC Anchorage
"Chris we really appreciate the time you have spent training with us and equipping us with these useful tools. Your anchors , bands and straps get well used here everyday. Thank very very much , look forward to training with you when you are back in Montreal."
Phillip Gelinas
Blackbelt Hall of Fame,
Gelinas Academy of Mixed Martial Arts, Montreal
"APT Bands are perfect for my over 50 clients.
I can train power, balance, strength, mobility all at the same time. And they're easily scalable for my novice clients as well as senior athletes. But best of all…they're fun!"
Joe Robert Weaver
Metazone Fitness, Asheville, NC
"I have six Anchor Point Training Bands in my training studio and our trainers and clients all love them! Our clients range in age from 39 to 80 and we use the bands daily in a variety of ways that challenge folks at all different fitness levels. Anchor Point bands are longer with more gradual change in resistance, the large, moveable handles offer so much versatility, clients never get bored !
Shelley Lindgren Turk
Proactive Fitness, Saskatoon, Sask
"When we met for the first time in NJ it was so evident that you had a great idea and passion inside you. I am so happy that you are realizing your dream and helping many people with your Anchor Point Training products. It's the struggle that makes it so rewarding. Cheers!
Larry Wassermam
Body Basics Fitness, Warren, NJ
"Anchor Point Training has added tremendous value to my clients training and versatility for my trainers. We use the APT system for our beginners as well as our high school rugby players and everyone in between. Like I tell everyone, with APT you're only one step away from your next workout.
Fit Body Boot Camp Clovis, Ca
Body Basics Fitness, Warren, NJ
"All my trainers have completed the APT overview. We love the variety and breadth that the Anchor Point Training systems give us. Our clients love the progressively challenging exercises !
Craig Jackson
FBBC North Tuscon, AZ
Proud partners in education and development